PromHeadQuarters.com is the online boutique of Dimitra Designs Bridal Emporium in Greenville, S.C., a formalwear shop that carries top quality evening gowns, bridal wear and other formal fashion essentials. The shop was opened by dressmaker Dimitra Mandala and stocks top-quality evening gowns, bridal wear and formal fashion dresses for cocktail parties, weddings, proms, formal dances and other events. Mandala's goal was to bring her best-selling dresses such as prom dresses, formal dance dresses, Quinceañera dresses and homecoming dresses, as well as formal dresses for other occasions to a broader audience that reaches far and wide. PromHeadQuarters.com offers top dress styles created by all the most notable formalwear designers including Dimitra Mandala's own line. We bring in new looks every season that follow the trends and what's on the runway.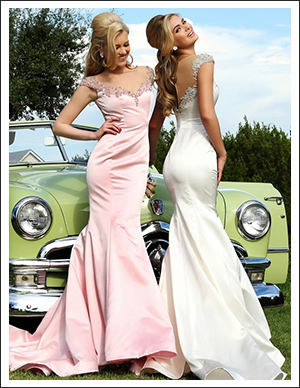 PromHeadQuarters.com is set apart from other online retailers, particular with prom dress retailers, because we have a retail location. We are an authorized retailer for each of the brands and designers we carry. Each dress style we list online is also available in our shop, and our hands on approach allows us to verify the authenticity and quality of each and every gown that comes into our brick-and-mortar and online shop. We make sure that every dress we sell is an original gown from real-deal dress designers to assure you that every order is quality, and help you avoid ordering dresses that are counterfeit, low quality or not-as-pictured products. We also make sure that all of our dress designs meet or exceed the season's trend forecast. You won't find outdated formalwear in our selection. PromHeadQuarters.com is committed to bringing stylish, appropriate fashions to formal affairs across the United States and the globe. Some of our favorite places to ship prom dresses include California, Tennessee, and Connecticut.



Dimitra Mandala gained experience and expertise over her 30 years of dressmaking. She graduated from design school and worked for notable designers such as Nolan Miller and Bob Mackie. After a few years in the Los Angeles fashion industry, she moved to Greenville, S.C. where she worked for world famous pageant dress designer Stephen Yearick. The designer later relocated his headquarters to New York. Mandala decided to stay in Greenville and open her own salon, where she could offer full-service bridal attire including tuxedo rentals and bridesmaids gowns. She also started her line of exclusive pageant gowns and prom dresses. The Internet has allowed Mandala to offer her designs of prom dresses, formal gowns and other designs to a larger market across the country, and internationally.