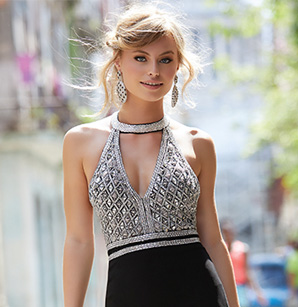 2018 Prom Guide: What's Hot This Year

From free-spirited florals to edgy high necklines, 2018 is the year formal fashionistas have been waiting for! Prom Headquarters has the inside-scoop from the frontlines of this season's hottest formal fashion shows, and we're on hand to dish what we saw to help you make the perfect choice for your 2018 prom look. We've also got all the deets on prom peripherals, from hair and makeup ideas
to your pre-prom checklist. Whether you're looking for prom inspo or are ready to pull the trigger on your dream dress, Prom Headquarters is ready to help you reach your #PromGoals.

2018 Prom Styles
Two-Piece Prom Dresses - 2018 is still all about the two-piece prom dress, and why not? These super-flirty and fabulous frocks are perfect for prom-goers who aren't afraid to show a bit of midriff. This year, they're embellished with flirty florals and come in form-fitting fabrics.
Floral Prom Dresses - Free-thinking prom-goers are in luck this year, since floral prints are back in a big way. We adore pairing all-over floral print with a super-hot two-piece style. Love where we're going with this? Check out this year's Morilee collection for inspiration.
Trumpet Skirt Prom Dresses- Sometimes called the "modified mermaid," the trumpet skirt prom dress brings the same big drama you love from the mermaid dress but offers a subtler flare and more breathing room. We've got tons of super-stylish two-piece trumpet gowns, too.
Form-Fitting Fabrics- Bye, bye ball gown! This year, it's all about the curve-hugging and figure-flattering. Designers debuted a full suite of stunning jersey prom dresses this season, helping you showcase your smashing silhouette from bedazzled neckline to floor-length skirt.
Deep V-Necks with Mesh- Okay, so the deep V never really went out of style. This year, though, designers are taking cues from the 1990s with fun mesh high-neck gowns with chokers and other eye-catching embellishments.
Ruby Red and Emerald- Deep shades are the spectrum of the season, especially royal blue and red. Prom styles may change every year, but there's one thing that remains a staple, and that's vibrant colors.
Prom Rompers and Jumpsuits - Who says prom dresses have to be actual dresses, anyway? Some of our favorite looks for 2018 include daring prom jumpsuits and rompers that draw out your playful side. You'll love this year's prom rompers by Blush and La Femme.
Solid Colors - Trailblazing prom-goers know that dresses need not be embellished from top to bottom. We've seen a lot of ladies asking for unembellished, simple prom dresses. We're happy to report that we've got a huge selection of simple (but never plain) prom gowns this year.
Prom Headquarters: Your Source for all Things Prom
Prom Headquarters has everything you need to get ready for prom. Browse our selection for prom dress inspiration or explore our various articles and references to get ideas on prom themes and plan your complete prom timeline. As an authority on all things prom, Prom Headquarters is happy to guide you to through the entire prom-cess. We're on hand to help you from promposal to promenade. Make PromHeadquarters.com your go-to prom resource this year!