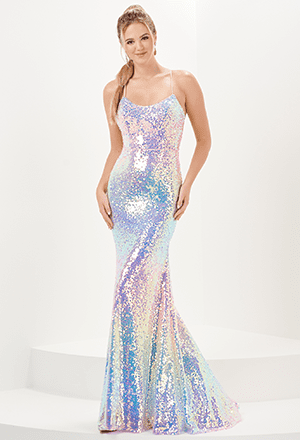 On prom night, it seems like everything has this...glow. It's a special occasion and it just feels like something out of this world. If you're about to go to your first prom, you want everything to be perfect. Let PromHeadquarters.com dress you for this once-in-a-lifetime event. Our selection of sequin prom dresses is sure to have the dress that will have everyone's heads turning.
Prom night is just one of those occasions that you can't afford to cut corners with. If you want to dress your best, you have to go all out. Don't wear the same dress as everyone else. Don't shop at the same stores. Instead, know that you'll be getting something completely unique. At PromHeadquarters.com, we only carry the most beautiful sequin prom dresses from top designers like Sherri Hill and Morilee so that you can feel confident in your dress choice. You'll be a vision when you walk into your prom just like you imagined it.
Choose the Fit That's Right for You
We offer sequin prom dresses that come in a rainbow of colors and an array of styles. Sweetheart necklines, ball gown skirts, corset detailing...you name it and we have it. With so many different styles of sequin prom dresses to choose from, it'll be easy for you to find the one that fits you best and flatters your figure. Just look for a cut that shows off your best features and let the sequins (and your smile) do all the sparkling.
Sequin Prom Dresses Are Elegant
Why sequins? Well, for starters, they're an elegant touch that just has this aura of Hollywood glam. There's something both timeless and romantic about sequins and when you wear them, you can feel as beautiful and vibrant as the night sky. You'll shine and your dress will only be further complimented by your stunning personality and prom perfect look. Trust us, sequins are the only way to go if you're dressing for your first prom.
Shop the selection of today at PromHeadquarters.com. We know you'll find the perfect dress for your first prom night.