If you're eagerly anticipating attending prom this year, you'll want to look your best, and part of that is knowing which dress silhouette best flatters your figure. At Prom Headquarters, we want to make prom dress shopping as easy and stress-free as possible, so we've put together the ultimate prom dress guide to help you find the perfect dress for your body type.
Bigger on Top
When you have narrow hips and a bigger bust size, it can be harder to find a dress that hits your proportions just right and plays up your assets. Girls who would describe themselves as bigger on top generally look best in A-line and classic ballgown prom dresses with fuller skirts that help balance out their top halves. Choose a style that draws attention up, toward your face. Halter necklines are a great way to not only draw attention upwards, but to also give the coverage needed for more supportive undergarments.
Bigger on Bottom
Girls who are bigger on the bottom are sometimes described as having a pear-shaped body type. If you have wider hips that protrude out further than your bust and/or shoulders, you might look bottom heavy in certain dress styles. Balance out your bottom half by accentuating your bust and shoulders. Sweetheart or plunging necklines can help create a more balanced look. In addition, an off the shoulder or cold shoulder style dress can help create visual balance.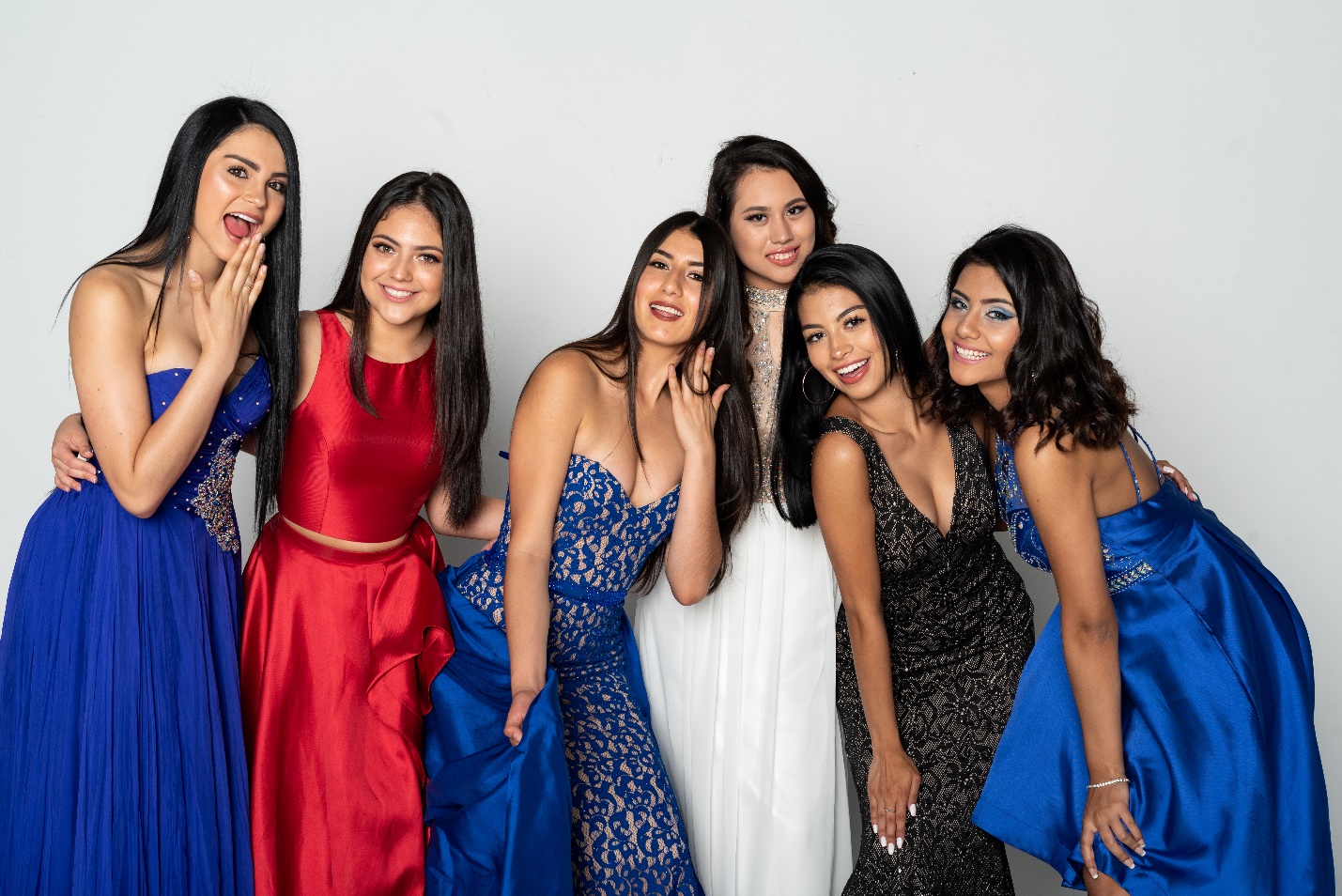 Rectangular Body Types
Girls with slightly more boyish figures should embrace their willowy frames for prom! If you have a rectangular body type, order a fitted dress like a mermaid dress and show off your physique while playing up your smaller curves. Slits are another great option to give your gown an extra bit of feminine appeal.
Apple Body Types
If you have an apple body type, you're not bigger on the top or the bottom and tend to carry weight right in the middle. Balance everything out by choosing a solid-color dress with an undefined midsection. Empire waists, including strapless empire waist dresses, are your friend! You can pull off patterns, too; just try to choose a dress with pattern on the top portion of the dress only. This body type can also look great in an A-line silhouette, and a leg slit can go a long way toward emphasizing your strong points.
Petite
For girls who are on the shorter, smaller side, finding a dress that doesn't look overwhelming on them can be a challenge. Fortunately, there are plenty of options at Prom Headquarters that can not only look great on you, but help make you appear taller too. Some petite girls prefer a shorter prom dress, but if you want a long prom dress, a high low prom dress is a great compromise. Vertically oriented embellishments and skirt pleats can also help trick the eye into thinking the wearer is taller.
Plus Size
Full figured girls have more options than ever when they shop at Prom Headquarters. We have a whole section dedicated to plus size prom dresses. Made by some of the leading names in the industry, our plus size dresses incorporate all the latest trends, styles and colors.
No matter what your body type is, you'll find the perfect dress to fit and flatter you when you shop at Prom Headquarters. Browse our incredible selection to find gorgeous designer prom dresses in a full range of styles, colors and designs to make you look and feel beautiful.